What's Cool This Summer?
May 23, 2017 - Posted by: earthelements
---
For most Americans, summer fun includes BBQ's with friends and family…and let's face it, maybe a cold beverage on a hot day. What does your outdoor scene look like these days? Have you created a summer space that you love? Do you have the deck, grill, pizza oven, kegerator that everyone flocks to on a sunny Saturday evening? Below we've come up with a few ideas to help you start gathering what you need to create an amazing outdoor space that everyone can enjoy.
Phase 1: Ground Level Basics
What are you walking on? If you have an old splintery deck, it's time to upgrade and HandyDeck makes it super easy. The pavers are freeze and fire resistant, and have superior structural thickness allowing for durability in all climates. The install is quick and easy. They can be laid over most any exterior surface including sloped and uneven areas without grout! No more splinters in bare feet, no ground leveling and digging needed. Plus, these pavers are stain resistant. Let your friend spill red wine, watch your kids drip hamburger grease…and you can hose it off and get back to the party.
Phase 2: The Ever Important Beverage
Now that we have a floor, let's talk about drinks. Whether it be beer, wine, or a sparkling water, everyone wants to keep their drinks cool. Perlick offers outdoor refrigeration, freezers, cocktail stations and beer dispensers! Their Outdoor Beer Dispensers are built to perform even when the temperature is over 100 degrees. This well-designed air flow system keeps the beer cold from keg to tap. Perlick also makes an Outdoor Freezer with fun accessories like a Martini Rack. Yes, please.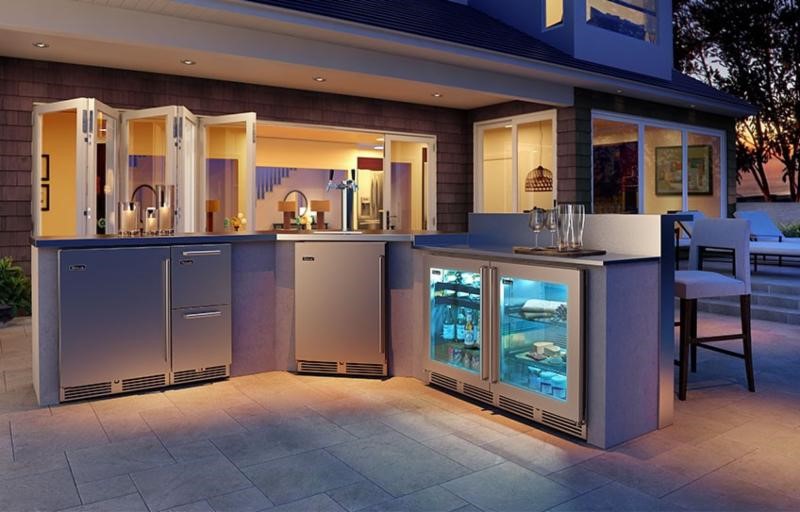 Phase 3: The Feeding Frenzy
They say the quickest way to the heart is through the belly, so let's get grilling. Blaze is all about luxury outdoor kitchen products at an affordable price point. Their Professional 44 inch-4 burner comes stock with an interchangeable rotisserie kit, a waterproof motor and a lot of cooking power! Offering 18,000 BTU's per burner and 10,000 BTU's for rotisserie, this grill will make everyone happy without breaking the bank. You need this. You can roast a chicken to perfection and cook the kid's burgers at the same time.
Return to Blog